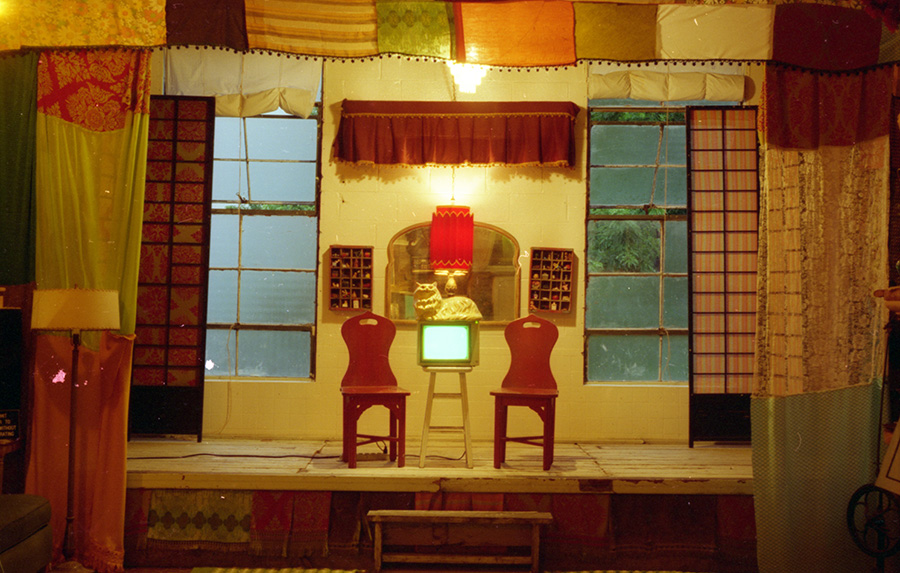 The Maybe Block originated in 1993 when I joined with a group of Memphis artists calling themselves "The Art Worker's Union" as they were renovating a 21,000 square foot warehouse that had once been an bakery. The place hadn't been used or cleaned in years, and was filled with old vats of rotten syrup, as well as pigeons and mountains of poop. After much scrubbing and bleaching, we cleaned it out and divided the studio up into sections, a front main gallery and several large artist workspaces in the back. Construction was constant, and the main gallery, Plan B,  finally opened to the public even as the remainder of the studio was halfway complete.
I decided to live here during this time, unfortunately there was no hot water, no heat and no air conditioning in the place. Nobody had the money for this, as the place was HUGE, and we basically had a few good months before the cold or the heat became intolerable. Thanks to the kindness of friends I took the occasional hot shower, but I mainly relied on the series of cold showers that were there from the cookie factory days.
I began construction of a performance space deep inside the cavernous factory. Initially the space was just going to be my studio, but I thought, why not have a stage? So with my boyfriend (later 'partner', then much later husband) Matthew and my friends Terry, Beth and Robin, we set about building a stage from scrap lumber we found around Memphis: building sites were raided, old fences that people were throwing out, whatever we could find. After the stage was finally built, curtains were sewn from yards of scrap found at local thrift stores, giving the space a decided "Little Rascals" aesthetic. I decided to call it "The Maybe Block", the infamous box of indecision that kids always included in notes asking another if they will "go with" them. [singlepic id=59 w=320 h=240 float=right]I thought this title was ideal in its multiple meanings; the space already had a childlike quality based on the ragtag aesthetic, and it was indeed an open box full of unknown possibility and indecision, as well as insecurity. It made perfect sense, particularly since performance art was to be involved.
We premiered the space during an art opening and soon had other local performers using the space for random exhibitions. We continued this until Spring of 1995, when Matthew and I were San Francisco bound for an exchange he was doing with the San Francisco Art Institute. At the end of his semester we decided to stay in San Francisco, where he would finish college.
We came back to Memphis to move our things and break down the studio. Some friends were renting it and continued to rent it after we left. Plan B Gallery and the Maybe Block continued for a few years, but eventually the cold and heat issues, as well as people moving on, saw the space shutting down entirely. The factory has since been torn down and condos built in place.